Bharatpur, inspite of reviews of birds not being spotted this year and the water problems did not disappoint me. I am not a bird connoisseur, but still I could see many birds.
We started the trip at about 12 pm.
I had hired a guide to take me around the park.
The bicycles were out of stock by the time we reached. So the only option was to take a cycle rickshaw.
My wife and sis-in-law on one rickshaw and me and our driver on the other, we were all set to begin the journey.
The only loophole is that the rickshaws tread on the main roads in the park. So a good part would have to be covered on foot if you really wanna capture the birds on cam.
The guide was knowledgeable and helped us spot birds.
It also made sense for me to keep noting the names of the birds which I spotted because there were many I did not know of.
So, do keep a piece of paper and a pen handy when doing such trips.
We spotted a total of 23 different species of birds, most of which I managed to capture on camera.
Few pics and names are available at the end of the page.


We had already spent about 4 hours on the park bird spotting.
Then when we returned from one stretch of the park, I asked the guide how much of the park was left because we needed to get back to Agra before darkness sets in.
There are a lot of accidents on the highways because of fog these days.
The guide said that we had 2 options, one was where there were bigger birds like cranes and many other birds near the watering holes in the park.
The other option was the Python point.
The difference between these 2 points was that, bird sighting was guaranteed, but Python sighting was quite rare.
I asked him a few more details like what's the probability of sighting pythons especially with the sun beating down .. because it is winter season and the pythons too would love to sun bathe.
He agreed with my logic, but still said, that there is no hard and fast rule.. and moreover to sight pythons you will have to walk about 4 kms one way.
I looked at wifey and sil(sister-in-law) .. they looked tired and wary, but they were aware of my instincts and that my day would be made if I captured a wild python moving on my cam.
Very sweetly, they said yes, I felt bad bad because that would mean that both of them would have to walk 8 kms up and down at the risk of not seeing a python.
But then, the same feeling was there even when I was at Corbett, wild life spotting is all about taking chances
All of us started off, it took roughly about 30-35 minutes to start reaching the first burrows where Indian Rock Pythons hide.
Porcupines make these burrows, but during monsoons, when the rain comes down hard, the pythons have nowhere to go, so they occupy these burrows.
One, two, three, four, we kept on spotting burrows, but no pythons…
I knew, the chances were bleak.. but I was only feeling bad for my wife and sil.
Then we spotted a skull of a cow, our driver excitedly asked if it meant there was a python around?
The guide brushed aside his question and we kept looking.
Then the guide said, there is another place, but that's about half a km inside and there is thick dry grass all over.
I agreed to go, but I asked my wife and sil to stay put on the main path, because the terrain looked scary.
Me, guide and the driver set on the path full of tall dry brown grass.
I asked the guide how he would he able to sight it? Because it would easily camouflage itself.
The guide said that they are lazy creatures and would be near the burrows only.. so you would need to spot the holes.. not the pythons, that's the trick.
We kept on walking and after 6-7 mins, saw a burrow, empty again ..
I kept standing there, reluctant to move further, the guide was moving and as I turned, I saw him quietly signaling to me to come over.
Amazed, I asked, if it was a python or a bird that he wanted to show… his expression was very cautious.. immediately without asking another question, I moved silently to him.
I saw four fully grown pythons basking in the sun.
Totally awe struck, ,my driver ran back to the main path to call my wife and sil.
Meanwhile, the first python made a movement and started slithering to the burrow and in no time disappeared.
Now, the second also started moving, I knew that this would enter the hole too.. so I ran to the burrow as quickly as I could with my camera.. and waiting for the second python to come to the spot.
As soon as it came, I clicked a few pics of it along with the third one.

Now, I wanted a video, there still was a fourth python which was unperturbed by all this activity.
By this time, my wife and sil also came to the spot.
I moved swiftly again back to the burrow.
I was ready.
In seconds, the fourth python came, tongue wagging, probably seeing the camera too
I was too close for comfort, hardly couple of feet away, but the joy of capturing the video kept my feet glued.
Finally it started slithering down the hole and the trip to the python point was a success.

On the way back, all of us were happy and satisfied that the last leg of 8 kms had paid off.
We left the park by 630 pm and reached Agra on time.
For all people who wanna visit this park, you definitely should consider visiting it.
It's not all that well managed, but its not bad either. Birds would leave you smiling at the end of the day … and if you manage to spot an Indian Rock Python, then that's a welcome bonus.
Also, the rates have been fixed and are to be paid as per the charts.
Please do not pay tips to either the guides or the rickshaw people. This is also clearly stated on the ticket windows there.
Because if people start this trend, then it becomes an expectation from their side, they keep pestering tourists at the end of the trip. Personally, I feel, this leaves a bad taste at the end of an eventful trip.
The standard rates are as below :
Entry : Adults(Indian) : Rs 25/-
Rickshaw : Rs. 70/- per hour
Guide : Rs. 100/- per hour
Bicycle : Rs 10/- per hour

Video of the Indian Rock Python that I shot from a distance of 5 feet :



A few of the birds and other things that I clicked :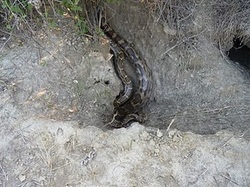 Indian rock python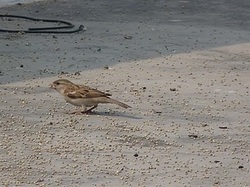 The common sparrow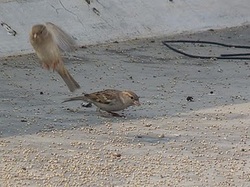 The sparrow again!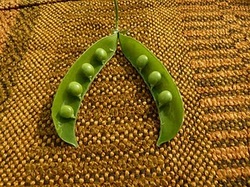 Green pea art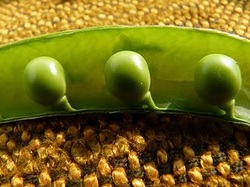 A few more peas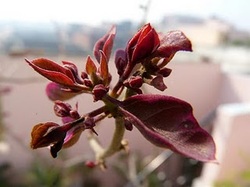 Some flower, I don't know the name of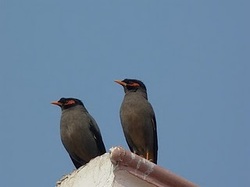 Mynah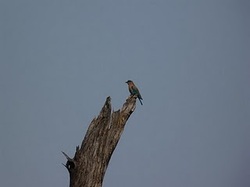 Indian Roller or the Neelkanth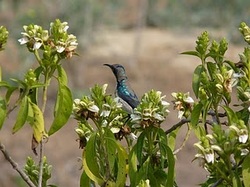 Purple sunbird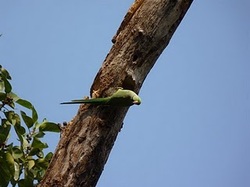 Common parakeet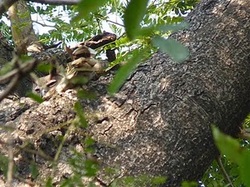 Dusky eagle owl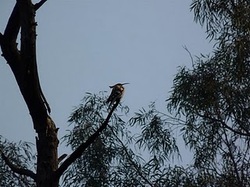 Indian Hoopoe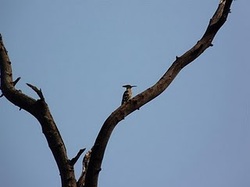 Indian Hoopoe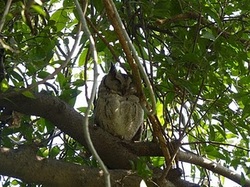 Collared scops owl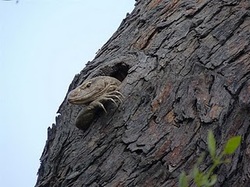 Monitor Lizard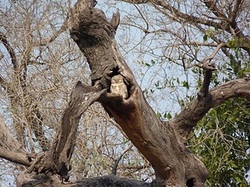 Spotted owl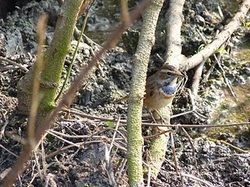 Blue throat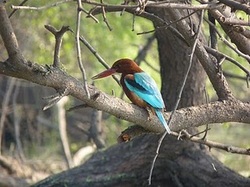 Kingfisher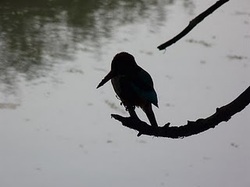 Kingfisher silhouette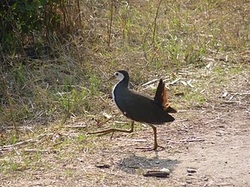 Water hen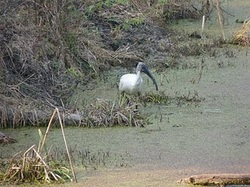 Ibis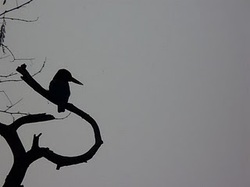 Kingfisher silhouette