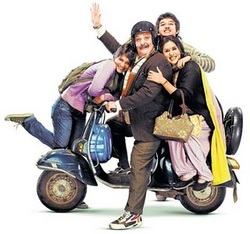 This week I thought there was no movie to catch up with.
On a busy Thursday afternoon, I just checked bookmyshow.com to find that Do dooni chaar was running to an empty theatre.
I immediately booked 2 tickets, praying that we are not disappointed.

Do dooni chaar is a story about the Duggal family which has a papa duggal, mama duggal, bhai duggal and behen duggal.
It's about a middle middle class family based in Delhi and how they go about their everyday chores.
Their mundane lives are also complicated by the lack of money through a salary that Papa Duggal earns as a modest and honest school teacher.

The kids in the movie, played by Archit Krishna and Aditi Vasudev are astonishingly refreshing and to the point.
At no point in the movie do you get the smell of a star studded movie.

The protagonist, Santosh Duggal, played by Rishi Kapoor, who himself was a superstar in the 70s and the 80s, is a lovable character which every normally brought up Indian can relate to.
If you were born in the eighties and were middle class, that's probably how your Dad would be!
Neetu Singh, playing Kusum Duggal was endearing and had a very earthy character which she did full justice to.
All through the film you would never feel that this woman has come back to face the camera after 30 years.

The real-life couple also extend their chemistry to this movie which lends it the soul of the movie.
Much of the movie can be relished only because it was Rishi and Neetu.
Their real life charisma also rubs off on the screen to recreate magic that one would not expect, atleast out of a small budget film like this!

Archit who plays the role of Sandeep Duggal is Rishi's son, a typical Delhiite, a guy lost in translation.
He loses his way in between and when he finally admits it in front of his family, unlike Indian cinema, his dad takes him out and does an uncharacteristic thing to bring him back on track.
Watch out for the scene where the dad-son talk happens on a road side thela eating paranthas.
That's as real as it gets. There is simplicity in the scene, yet it is so refreshing that the audience gets transported back in their lives, when their dad must've given them a lesson for doing something wrong.

The sister, Payal Duggal, played by Aditi Vasudev is a very well potrayed girl brought up in urban surroundings, but wanting to break away from the mould.
She is a typical bubbly, effervescent middle class girl who is a little ashamed of her dad's salary.
She has a boyfriend, Micky, who is a son of a gun.
But when the time comes to stick by her family, she very clandestinely supports her dad towards the climax.
She is definitely better of the two siblings when it came to the role.
For a debut role, it was a more than decent performance by her.

But, again I would say, that this is a movie meant and written for Rishi and Neetu.
The sheer chemistry between them is what makes this film work.
They share a lot of witty moments between themselves.

Do dooni chaar is a story about a very normal, very earthy, very middle class family who make their ends meet with a lot of difficulties.
Yet, what is endearing is the love that they share and the eighties feeling that most born at that time would be aware of.
It is not flashy. It is not preachy. It's just a light movie which touches your heart.
You will not come out heavy from the cinema theatre because there is no melodrama.
Yet, you will be refreshed because it is your story, my story and a story which millions of my countrymen would share.
It's like a mirror of your household in the eighties, which would bring a smile to your lips.

This movie is right what it was meant to be. A middle class story.
A Hrishikesh Mujherjee kind of film, which has a message but said very subtly without preaching.

Watch it for Rishi and Neetu.
Here I would make a comment and exercise my discretion and say that Neetu Singh is still as beautiful and graceful as she was when she quit acting at the age of 18.
Time has only brought more grace to her face and she managed to pull off a very middle class role with aplomb.
No wonder Ranbir's good looks come from his mom. Rishi was handsome too, but Ranbir is Neetu's son.
The mothers don't get more beautiful than this and he should be glad for that!

I would go with 3 out of 5 for this wonderful rendition of a common man's life.

Don't miss this movie. If nothing else, then Rishi and Neetu would make your weekend worthwhile.
Also, as an after note, do check out the way, Mr Duggal picks up the phone everytime and says :
"Hellooo, Santosh Duggal this side"!