Britney Spears has always been a teen icon!
Back when I was a teen, I followed Brian Adams and boy bands like Backstreet boys and Boyzone.. they were a rage back then.
But most people dished out similar things...
As guys.. me and my friends always wanted some young lady take the lead!
The answer came in the form of Britney Spears.

I remember, Jan 1999, when her "Baby, one more time" debuted, it became a rage in the US and the ripples were felt the world over!
She looked cute, a girl next door.. who was a great performer..
Apart from that her first song had a video where she was dressed as a new college goer! So it struck the chord immediately with us.. who were also just getting over with school. (School in India is till grade 10). Thereafter its college.

The SONY BMG music cassette costed Rupees 180... which was about 4 and half dollars then.
It was big money for me, I got about 50 rupees as pocket money then for my personal expenses.
I saved up for a couple of months, pooled in my past savings, and got the cassette finally!
I was the first among my peers.. immediately my cassette got booked for a few days.. all my friends wanted to take it home and record the songs on a blank cassette!!
That was back then...
when Britney was cute.. she was our age..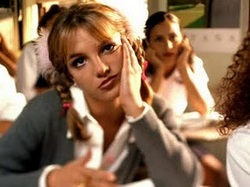 Then over albums and years, she became a cult figure... I started losing interest in her albums and songs which became more pub friendly.
Too much of mixing and beats made her voice obscure.
The times of "hit me baby one more time" and "U drive me crazy" were clearly over.
She had become like the rest of the generation and lost her youthful next-door charm. :(

Years later, I came across a song 'Toxic' The video was fun, but she had lost the charm by then.. she had grown up to be just like one of those American singers.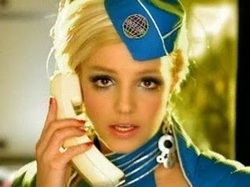 She did crazy things like having the shortest marriage which lasted only 55 hours.
The slide continued, with another failed marriage, Kevin Federline was at the other end this time.
She had kids, I wonder what they think of their mom!
These guys, if they go to school, must be having an equally hard time there with all the kids around knowing of all the stupid things that keep happening with their mother.
She later allegedly hooked up with some driver or something called Adnan Ghalib.
Can it get any worse??

Now, when I look back, I cringe to think of what the icon of millions of teens back then has done to herself.
She must be close to 30, but already looks too tired of life.
She gets most of her pictures air-brushed when appearing on covers of magazines.

I guess this is what happens when someone can't handle the fame and adulation which comes too early.
She is only a sad shadow of her past now.. I feel sad, but considering her middle class upbringing, expected her to be stronger.
There are lots of such cases out there... rehab is their second home.
But alas, that's what we have come to be.

For years, we yearn to succeed, we work hard to succeed, but when we achieve something quantifiable, we go into the self-destruct mode!

The latest I heard today, Madame Spears, plans to get married again by the end of this year. to Jason Trawick who was her manager! Phew!