Today I ran into a young opinionated guy at my work, who accidentally drew me into a discussion on my hero.
Sachin Tendulkar, ladies and gentlemen, needs no introduction.
A simple google search for his name would yield 36 million results.
Roger Federer returns 35 million results.
So my friends not in the know of cricket would know what they are reading about.
Ok, to cut a long story short, there have been a lot of discussions in the last month about Sachin Tendulkar hanging up his boots.
The critics, some from the famed cricketing world and some lame(like the bubbly young stag I ran into at work today), are demanding his head on basis of non-performance.
I want to write an open letter to them and let the ghost to rest for the time being.
So here goes :
Dear Sachin detractor,
Taking into consideration, your frustrations & constant bickering on social platforms, on media, both TV & print, I want to discuss with you the logic of your
superfluous arguments.
1. You want Sachin to leave because he hasn't performed in Australia.
May I remind you, most of you were wetting your panties when he played in Australia first.
He just had his first ODI tour after the World cup last year. In the previous year, he has played 0 ODIs, so the bad performance of the last 5 ODIs is isolated.
This isn't in line with your constant ranting about prolonged non-performance.
In his last outing in the world cup, he was the second highest scorer of the tournament, coming second only by 18 runs.
It's time you re-looked your allegations.
2. You think young talent in India is blocked of opportunity because Sachin is hanging on to his spot.
Well, let's get it straight, straight away.
He isn't blocking anyone's slot. Currently, there is no one who is able to topple him and take his place.
When he was 16, he came like a lightening and blazed his way into the team.
He played at #6 for India, his performances spoke for him & made it to the opening slot.
He had no godfathers like current dumb & non performing players like Ravindra Jadeja have in MS. Dhoni.
And trust me, I am completely in my senses & my heart isn't taking precedence over my brain when I say this :
Who in Indian cricket can replace SRT even with his current form?
And I am referring to youngsters.
You cannot give a chance to youngsters just because they are young. They also need to perform.
Jadeja, Raina, Rohit Sharma have been given umpteen chances, none of them have performed.
This way, I am beginning to fancy my chances of getting into the Indian team.
Come on, for God's sake.
If you give me 20 chances, I can at least do better than Rohit Sharma.
3. You need to groom a team for 2015, so get Sachin out
What nonsense? He has played international cricket for 23 years now. For God's sake can 20 odd year people stop advising him?
In just his last tournament he was the second highest run scorer in the world in ODI cricket.
And just 5 ODIs later, you say, he is old?
Mind you, if you need to groom a team, then take Gambhir, Sehwag, Zaheer, Irfaan, Yousouf & MSD out too.
They too might not be around till then.
What you would be left with is a bunch of sitting ducks who would go and get killed on the pitch.
Then people would say, there is no experience to guide them.
I am done with people like you.
If you have the stats to prove, call me, we'll discuss, else keep your pie-holes shut.
Now, coming to the so-called established greats who are calling for his head.
We'll start with this gentleman Kapil Dev.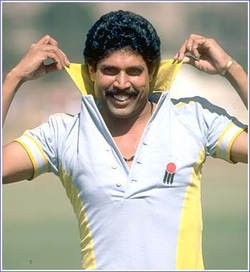 He says, Sachin should have retired after the world cup.
My question to him is : Why the hell?
He was comfortable, his body was responding well, he felt like playing more, he was the second highest scorer in the world cup. Why should he have retired?
And look who's talking?
KD, I know you were one of the best 'in your era'.
You reached the landmark of 400 test wickets in 1992.
Since then, you huffed and puffed for 3 long painful years to reach this personal milestone.
You took 34 wickets in 3 years.
Harbhajan Singh took 31 in one series in 2001.
The whole team had to offer you crutches to cross the finish line.
Azharuddin had to instruct Kumble to bowl outside the leg stump in the final match so that you could take your 434th victim.
You were in the team as an all-rounder, forget a 100, you did not score a fifty in your last 105 matches.
You prolonged your non-performance for 3 years and now you have developed the balls to question another great who had offered his unflinching support to his country for 23 years.
Agreed, you were great, you were up there & now you are nowhere.
The need to grab eyeballs has gotten better of you. You are the Rakhi Sawant of cricket.
I feel bad desecrating you, but you asked for it.
Now, the next offender:
Sanjay Manjrekar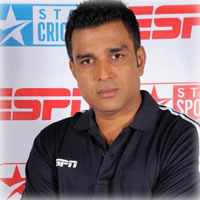 He has been whining since 4 years now about Sachin's form and every year he gets a slap on his face from Sachin's bat. I think it is blasphemous even to compare him with Sachin.
Have a look at his stats. It's a joke to even compare them
Mat Inns NO Runs HS Ave BF SR 100 50 4s 6s Ct St
Tests
37 61 6 2043 218 37.14 5282 38.67 4 9 220 1 25 1
ODIs
74 70 10 1994 105 33.23 3101 64.30 1 15 99 10 23 0
He has scored 5 hundreds all his life, tests + ODIs.
Sachin scored 9 in 1998 alone.
Sachin has scored 99 hundreds in all.
Stack up his 8000 runs against Sachin Tendulkar's 33000 runs & you'll know why the dogs bark.
One last offender, this time from down under.
Ian Chappell.
He too is of the Manjrekar league, has been whining for a long while now.
Again, I will spare myself the pain. Check out his stats :
Mat Inns NO Runs HS Ave BF SR 100 50 4s 6s Ct St
Tests
75 136 10 5345 196 42.42 14 26 15 105 0
ODIs
16 16 2 673 86 48.07 874 77.00 0 8 74 7 5 0
At best, he is an average Australian player, let alone international.
There is one thing common in the above people. They make a living by desecrating Sachin Tendulkar.
To me, Sachin Tendulkar is the man who captured the imagination of a nation worth a billion people.
He became the hero when there was poverty and lawlessness all around.
People needed a hero.
He stood up.
He could bind India like nothing could.
The country came to a standstill every time he walked out to bat. They would turn off their TV sets once he got out.
He has been the one for 23 years.
In his twilight, he at least deserves a rational farewell.
He is not the one who will hang around just because he is making money.
He has had enough of it all his life.
He was the one who stood up and said, I will not play T20 for India, because it's a youngsters game and I don't fit in.
Be rest assured, he won't rob anyone of his place in the team.
At least stop being ungrateful bastards, and give him his due right to decide his retirement.
We are a selfish lot, and I am ashamed.
The end for him may not be far ahead, but a true human, a true sports person & a great role model deserves better from a selfish nation
.
I had this status message on FB when he made his 50th test ton :
"I won't bow specially for this one, because I have been in that position since 1989".
All respect to you sir.
Regards,
A Sachin Tendulkar fan.